WilsonvilleSTAGE, Wilsonville's only theater company, is determined to thrive and to that end is dedicated to taking our theater to our Community!
October
by A.r. gurney
Directed by aaron morrow
Sylvia
Greg and Kate have moved to Manhattan after twenty-two years of child-raising in the suburbs. Greg's career as a financial trader is winding down, while Kate's career, as a public-school English teacher, is beginning to offer her more opportunities. Greg brings home a dog he found in the park — or that has found him — bearing only the name "Sylvia" on her name tag. A street-smart mixture of Labrador and Poodle, Sylvia becomes a major bone of contention between husband and wife. She offers Greg an escape from the frustrations of his job and the unknowns of middle age. To Kate, Sylvia becomes a rival for affection. And Sylvia thinks Kate just doesn't understand the relationship between man and dog. The marriage is put in serious jeopardy until, after a series of hilarious and touching complications, Greg and Kate learn to compromise, and Sylvia becomes a valued part of their lives. --Dramatist Play Services--

"A modern romantic comedy about a marriage and a dog. "Dramatic literature is stuffed with memorable love scenes, but none is as immediately delicious and dizzy as the one that begins the redeeming affair in A.R. Gurney's new comedy, SYLVIA…" —NY Times.
"I can only call it one of the most involving, beautiful, funny, touching and profound plays I have ever seen…" —NY Daily News.
"Gurney's mad comedy is the most endearing good time to trot down the pike in many a moon. Howlingly funny…" —BackStage.
February
by James Goldman
Directed by Janet Steiger Carr
The Lion in Winter

"Sibling rivalry, adultery, and dungeons – The Lion in Winter, by James Goldman, is a modern-day classic. Comedic in tone, dramatic in action – the play tells the story of the Plantagenet family, who are locked in a free-for-all of competing ambitions to inherit a kingdom. The queen, and wealthiest woman in the world, Eleanor of Aquitaine, has been kept in prison since raising an army against her husband, King Henry II. Let out only for holidays, the play centers around the inner conflicts of the royal family as they fight over both a kingdom and King Henry's paramour during the Christmas of 1183. As Eleanor says, "Every family has its ups and downs," and this royal family is no exception."
--Samuel French--
Our Past Productions

2018-2019
THE COMPLETE WORKS OF WILLIAM SHAKESPEARE (ABRIDGED) [REVISED]
BLITHE SPIRIT
2017-2018
FLAMING IDIOTS
BEYOND THE DARK
2016-2017 Season
NAKED DARROW
THE LARAMIE PROJECT
THE CEMETERY CLUB
CHAPTER TWO
CHAPTER TWO
May
by Adam Long, Daniel Singer, and Jess Winfield
Directed by Rick Hoover
The Complete Works of William Shakespeare (Abridged) [Revised]
Following three friends spontaneously trying to run through the entire works of Shakespeare in one go, the attempt is hilariously doomed from the start with mishaps throughout. But the friends are undeterred by their lack of skill and plunge on, head first, Monty Python style.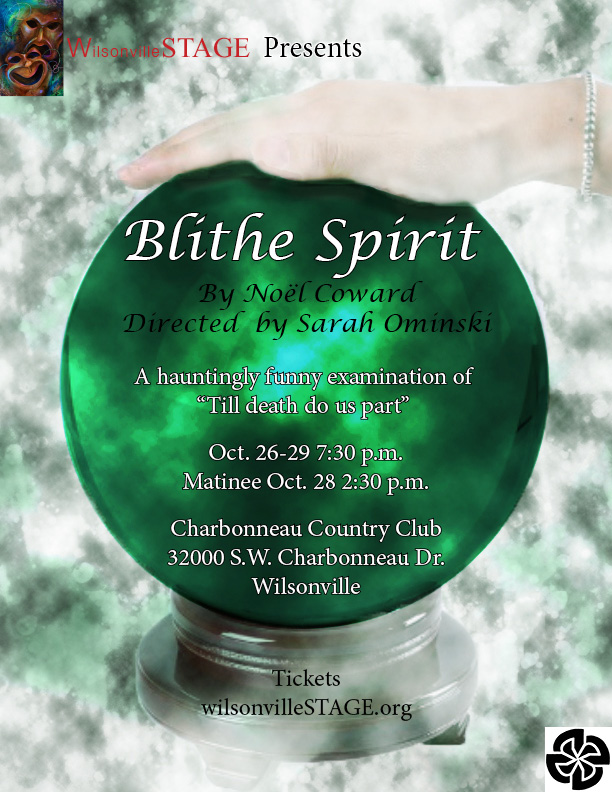 October
by Noël Coward, Directed by Sarah Ominski
Blithe Spirit
They say "two's company, but three's a crowd" and Noël Coward's dark comedy "Blithe Spirit" proves it. Kicking off WilsonvilleSTAGE's 2018-2019 season, "Blithe Spirit" follows the exploits of socialite and novelist, Charles, who invites an eccentric spiritual medium, Madame Arcati, into his home to conduct a seance as research for his next book. But it all goes hilariously wrong, causing his deceased, temperamental first wife, Elvira, to haunt him and make him look like a fool in front of his second wife, Ruth, who cannot hear or see Elvira.
For the first time, WilsonvilleSTAGE is be partnering with local director Sarah Ominski. With credits to her name as a director, producer, and actor, Ominski is excited to take the classic play and give it new life here in Wilsonville.
May
by Tom Rooney, Directed by terry d. kester
Flaming Idiots
If you're not good enough to be famous, infamous is just as good, right? So goes the logic of two hilariously under-qualified post office employees that decide to take a crack at making it big in the restaurant business in Tom Rooney's raucous, award winning farce "Flaming Idiots."

Laugh till your sides split wondering if these wayward post office employees can achieve culinary success, with the aid of a senile hit-man, a deaf and mute chef that can't cook, a dead body and a mounted patrol cop who can't control his horse. What could possibly go wrong?
April
taking the show on the road
Beyond the Dark, Special event
In honor of April being National Child Abuse Prevention Month, WilsonvilleSTAGE is joining forces with Salem's Capitol City Exchange Club for a special showing of the one-woman play "Beyond the Dark," by Zoe Niklas with Terry D. Kester.
Set in the 1960s in Seattle, "Beyond the Dark" is based off Niklas' memoir detailing her tumultuous childhood with and eventual escape from her charismatic but abusive mother, Zodie.
The event is a fundraiser for Capitol City Exchange Club's Child Abuse Prevention Programs.
February
a Wilsonville First, The National Premier of
Beyond the Dark
A Childhood Memoir
Anchored in the present but looking back to the 1960s, Beyond the Dark is a theatrical memoir about young Mary Zoe's desperate struggle to escape her charismatic but abusive mother, Zodie. Trapped in her mother's horrifying world of addictions, violence and delusional fantasies and abandoned by social services, 11-year-old Mary Zoe sets out to find a home with a family who will give her the love and security she so desperately needs, but her mother has a different end in mind.
This one women show, based on Niklas' book "Driving in the Dark," was written by Zoe Niklas and developed in collaboration with Terry D. Kester, the Artistic Director of WilsonvilleSTAGE.

PRODUCTION DATES AND VENUES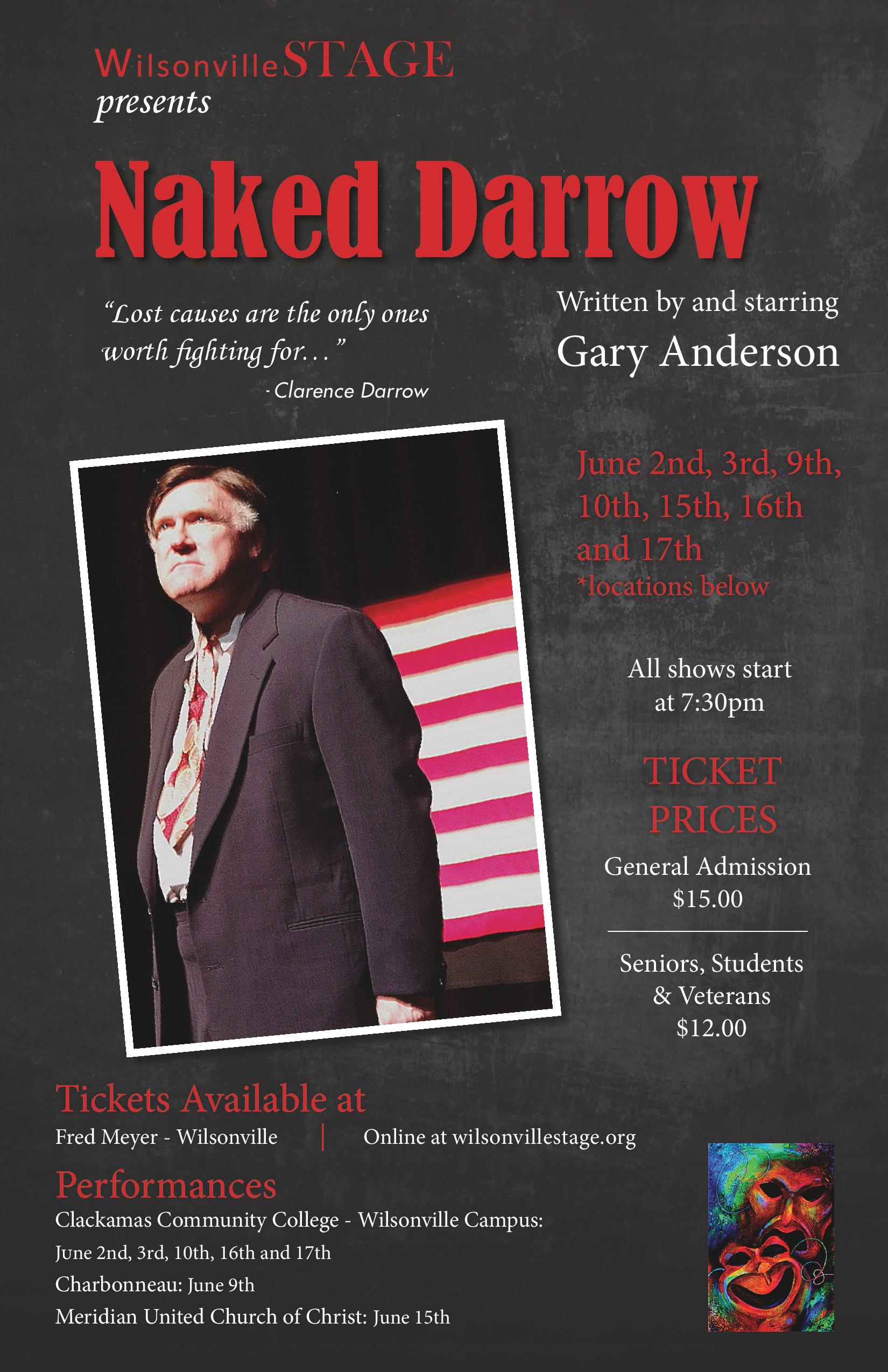 Written and Starring Gary Anderson
Praise for NAKED DARROW and Gary Anderson
Naked Darrow is a provocative look at our most hated and revered attorney, Clarence Darrow, as his great mind slips away.
Darrow was best known for defending killers Leopold and Loeb and for defending the science teacher in the Monkey Trial. Now Darrow reveals his very private life, his trials, his personal demons and his jury-tampering charges. Personally reckless and professionally fearless, he now stubbornly faces his two greatest opponents: disease and death. Knowing the odds were against him to the end, he remained Clarence Darrow . . . an American Iconoclast.
Gary L. Anderson has his work characterized in newspapers across the country as "Anderson's Darrow is in the same league as Holbrook's Mark Twain." He is the CEO of the Clarence Darrow Foundation, and a member of the Screen Actors Guild. An award-winning stage actor, he has appeared in several television series and as Darrow in the documentary, Assassination: Idaho's Trial of the Century airing annually on PBS.
Gary Anderson deserves his place in New York theatrical history, for his not-to-be-missed work of theater – Naked Darrow. This is a special play that will leave a lasting impression, one, like Darrow, that will not be easily forgotten..… Kelly Aliano, New York Theatre Wire
'Naked Darrow is a delight. It captures Darrow in all his depth and complexity, and makes his wisdom meaningful for today. There is no better performance about the Attorney for the Damned than Anderson's Darrow.'… Edward Larson – Pulitzer Prize Winning author of: Summer for the Gods
Anderson's solo show, Naked Darrow, conjures a man brimming with accomplishment but harried by his own demons. This production focuses squarely on the aspects of Darrow that are most problematic. It's a warts-and-all portrait compelling in its Complexity and its humanity… Lisa Brock Minneapolis Star
By Moises Kaufman + Tectonic Theater
Directed by Terry Kester
WilsonvilleSTAGE presents THE LARAMIE PROJECT, Feb. 16- March 4. A play about the 1998 brutal "hate murder" of Mathew Shepardin Laramie-WY. Author-Artistic Director, Moises Kaufman, + members of NYC Tectonic Theater, went to Laramie to interview 200 citizens, thus creating this poignant, powerful play. A play that reveals the consequences when we stoop tohate one another. Hate, such as in our state, as we led America with the highest per capita hate incidents in the 10 days after the election -- in America over 3,900 incidents.
Reviews of The Laramie Project:
THE SAN FRANCISCO CHRONICLE. A bracing wholly or original and deeply affecting piece of theater. It radiates integrity, an aching collective need to understand in comprehensible events. It portrays an American town with grace, truth, theatrical economy, compassion, wit, despair and love. It proves that theater can serve as witness to our deeds. It's we who must answer one by one, for what we all create and what we destroy.
NEW YORK MAGAZINE. The Laramie Project is a terrific piece of theater, history, and life ... There emerges a mosaic as moving and important as any you will see on the walls of the churches of the world... You should not miss a theatrical and human event that deserves standing up for, with applause, or better yet, silently, taking an important lesson profoundly to heart.
by Ivan Menchell
Directed by Terry D Kester
Three distinctly different widows, Ida, Lucille, and Doris, meet monthly to have their tea and then to venture to their local cemetery to visit their departed husband's graves. Their friendship is everything from tender to hilarious . . . until . . . Sam, a widower, the local butcher, arrives to morn his "ex" . . . and perhaps to find a new romance. From this moment on everything escalates as we move from devoted friendship to romance competition between the ladies -- all leading to a very touching end.
by Neil Simon
Directed by Dave DeHart
Recent widower, George Schneider, is encouraged by his younger brother Leo to start dating again, which sends George into even deeper depression after a series of bad matches. Then, Leo comes up with Jennie Malone and she's a keeper. Still, it is a bumpy trip on the road to Dreamland for these not-so-young lovers. George and Jennie stumble on, overcoming both their hesitation on the rebound and emotional neediness. In a hilarious, farcical subplot, Leo has a fling with Faye, Jennie's neurotic married friend.